Did you know conventional Easter egg dyes are loaded with artificial colors and other toxic ingredients? Yep, it's true. I wouldn't eat those dyed eggs or even think about giving them to my kids.
But that's not all – everything from the plastic Easter basket grass to wrapping to plastic toys and gifts are made with toxic chemicals. What can you do? Check out these DIY natural Easter ideas to help your family go green this spring.
DIY Natural Easter Ideas
Reuse that Easter Basket
My oldest son has a plastic (yes, I know it's plastic) bucket that we decorated with a foam Easter bunny face. He's been using it for the last 5 years. Our youngest son has a felt Easter basket he's been reusing for years too. They've used those baskets other times out of the year too to transport Legos, Matchbox cars – and even for Halloween trick or treating… not the the one with the bunny ears, rather my youngest son's robot basket.
Swap Out Fake Grass for Natural Alternatives
Fill your Easter baskets with shredded paper, newspaper or fabric scraps.
Comic strip Easter basket filler from Crafting a Green World
Rag garland Easter filler from Etsy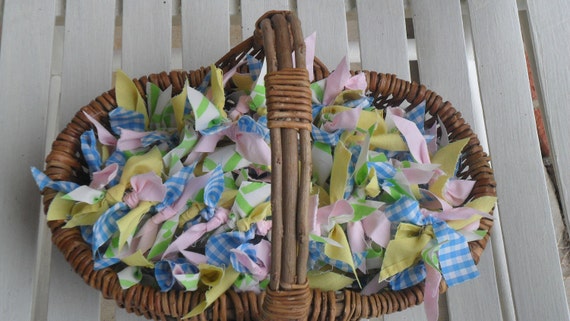 Use Natural Dyes
I admit I've used Paas egg coloring kits in the past. But now I know about natural dyes. You can make them at home with ingredients like turmeric for yellow or beet powder for red, or you can buy a kit with natural dyes.
DIY egg coloring dye from Kitchen Stewardship
Egg coloring kit from Natural Candy Store
DIY Toys & Gifts
DIY Scented Play Dough (made with essential oils)
DIY Lip Balm (make for $0.24 a tube!)
Make a Healthy, Fun Easter Snack Instead of Giving Out Candy
Easter baskets these days are filled to the brim with candy. The sugar alone sends my kids into orbit, but it's all the processed chemicals and artificial dyes that drive me nuts. Instead of giving out candy with food dyes, consider all-natural milk chocolate bars or check out my 12 homemade candy recipes made with real food ingredients.
Or better yet, put fruit like Clementine oranges, baby apples or dried fruit in your kids' Easter baskets. My 4 year old would love it – he eats so much fruit. You could also do mixed nuts or popcorn.
This post contains affiliate links. Read my full
disclosure
.
FREE E-BOOK
Sign up to get a FREE copy of my e-book, The Essential Home: Quick Start Guide to DIY - available exclusively to subscribers.
You'll also get weekly updates with the latest DIY tutorials, natural health tips, and real food recipes.